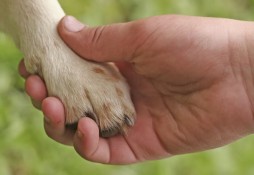 Calling all pet lovers! It's time for our New Year's resolutions, but not only for ourselves – let's include our pets in our resolutions and make the New Year, fun, safe and happy for all the family. So here are 6 top New Year's resolutions that will be good for both you and your pet:
I will exercise my dog:
Dogs love to be out and about walking, running, playing, sniffing and meeting new doggie friends. So one of the best activities you can do with your dog is to simply walk them before you go off to work or when you come home. Both you and your dog will benefit from the exercise and your dog will love you even more – if that's possible! Your best friend will be tired and contented throughout the day and you can relax knowing they are happy and content – it's a win, win!
I will not overfeed my pet:
You know this is not good for your pet's health. So make a resolution to stop overfeeding your pet right now. Overweight pets don't enjoy their exercise as much as they could and they can suffer from a host of chronic and debilitating diseases if they remain overweight for too long (just like us humans!). So stop feeding your pet scraps from the table, buy them the right food for their age and weigh their food. Perhaps you can also think about and research the quality of the food you are feeding them. Not all pet foods are the same and the quality and source of ingredients varies massively. That dog food might be cheap but what are they really eating and how good is it for them?
I will vaccinate / protect my pet:
Keeping your pet's vaccinations up to date is one of the best ways to maintain their health. The last thing you want is for your pet to become ill with a disease that you could have prevented – if you had given them their yearly vaccinations. Yes, vaccinations aren't cheap, but the pain it can cause both you and your pet if they become ill, is worth preventing every single time. It is also hugely important to make sure your pet is protected not just from fleas but ticks and other nasties. Scores of dogs and cats die every year from tick paralysis on the East coast and using preventative measures can have a massive impact on protecting your pet.
I will microchip my pet:
If your pet becomes lost – maybe they wander around your neighbourhood (cat's make this a speciality!), maybe they are escape artists (dogs in particular) or the gate was left open, the fence palings fell off etc., … then a microchip can save you lots of heartache. Did you know that the first thing vets do when they receive a lost animal is to check for a microchip? The same happens at the RSPCA and the council pounds. So if your pet has a microchip, you can be notified immediately they are found and reunited ASAP.
I will groom my pet:
If your dog or cat needs grooming, then make it a new resolution to either learn to do it yourself or to have a regular grooming date with a local salon. Dog owners can take advantage of the mobile doggie baths and many of them will also trim their coat as well as bath them for you. It is vitally important to keep pets coats clean and tangle free, this ensures their optimal health and happiness.
I will teach my dog a new trick:
Dogs love to learn new tricks and contrary to the old saying – you can't teach an old dog new tricks – yes you can absolutely! Dogs love to learn new tricks, so make it a resolution to take them out for more adventures even if it is just for a ride in the car. You can even teach them actual tricks or take some time to tackle their bad behaviour. So if you are up for teaching your dog new tricks this year, you will have a very willing partner and build a stronger bond with your pet.
If you live in the Northern Beaches of Sydney and you don't have time to walk your dog this year or you want someone to mind your cat while you are on holiday or at work – call Tracey on 0413 097 821 or complete our online enquiry form.