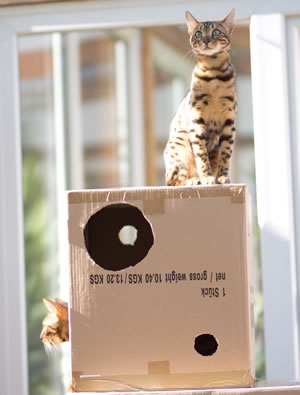 If you are moving home soon, there are certain steps you can take that will make the move a lot easier on both yourself and your cat. So here is a list of things that you can do, which will minimise any stress your cat might feel with the move. You might be lucky and your cat makes the move quite easily, but nevertheless, you do need to ensure that you take the following steps to keep your cat safe.
Identification:
If your cat already wears an ID collar then you are good to go. All you need to do is purchase a new disk with your new address and phone number engraved. If your cat doesn't normally wear an ID collar, it is best to start a few weeks before the move, so your cat can become used to wearing one. Another tip is to have your cat micro chipped, as this is another great way to find a lost cat (it's better to be safe than sorry).
When to Move:
Leave your cat in your old home for as long as possible. So place them comfortably in one room where they can be undisturbed with their bed, toys, food and water, until you can no longer keep one room closed off from the rest of the house. When this time comes, pop your cat into their transport box, which hopefully they are already familiar with, and keep them with you as you make the final checks on your property.
The journey:
If your cat is already happy travelling in their cat carrier and the journey is fairly short, your cat should be fine. If you have a long car journey ahead or you are flying, then it might be a good idea to talk to your vet about sedating them for the journey. This is a decision best made with your vet, particularly if your cat does not travel well, is not used to cat carriers or is of an anxious disposition.
Settling in:
Once at your new home, leave your cat in their carrier until all the hustle and bustle of moving has calmed down and the removalists have left. You are going to have to keep your cat indoors for a few weeks, so they can become used to their new surroundings. Your cat may not eat for a few days, but they will calm down and become more like their old self pretty soon. Just start back with your old routine, which will comfort your cat and wait at least a week, if not longer, before allowing them outside.
Exploring outside:
If your cat normally wears a harness, this is a good time to use one, so your cat can be slowly introduced to their new outside environment and not run away. You can also tie a few meters of thin rope or cord to their collar and stay outside with them while they explore their new home. Do this over a couple of days and then remove the harness or cord attached to their collar, but stay with them for their first few explorations.
If you introduce your cat slowly to their new environment, your cat should have no problems becoming comfortable with their new surroundings.
For information on our cat minding services in the Northern Beaches area of Sydney, call Tracey on 0413 097 821 or complete our online enquiry form.